---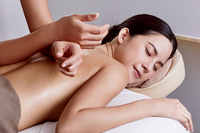 アロマオイルマッサージ
Aroma Oil Massage
Regular price $168.48
Tax included.
| | |
| --- | --- |
| 90 mins | $156 ($168.48 w/GST) |
| 120 mins | $198 ($213.84 w/GST) |
100%ナチュラル、最高品質のエッセンシャルオイルを配合したオイルを使用する贅沢なマッサージです。施術後3時間ほど時間をかけて、エッセンシャルオイルが体内にゆっくりと浸透していき、その効果は1週間ほど継続します。体調に合わせて、お好みのマッサージオイルをお選びください。


施術方は、スウェディッシュ、ディープティッシュー、ロミロミ、アユールベーダ、指圧等、各種マッサージのテクニックを駆使する湯の森独自のスタイルです。ストレス、不眠、頭痛、肌荒れ、筋肉痛等に効果があります。
Our Aroma Massage combines the best massage techniques from across the globe to create a soothing and relaxing experience. Consult with your skilled therapist concerning your desired pressure levels and any areas of focus, and then simply switch off and enjoy.

Fragrant essential oils boost the effects of the expert massage with their natural healing properties and relieve any traces of stress and tension. Aroma Massage also helps to ease aches and pains, alleviate muscle and tendon injuries, soothe headaches, and holistically balance your energy levels.
*Not inclusive of onsen day pass*
How to Redeem
An order confirmation will be sent to your email after payment.
Call 6386 4126 to book an appointment within 12 months from date of purchase.
Alternatively, you may request for an appointment here.
When you arrive on your appointment date, present your order confirmation at our check-in counter to utilize the service immediately.
To enjoy onsen facilities (additional charges apply), please arrive at least 1 hour before appointment time for onsen as patrons are not allowed to use the onsen after aroma massage.
No vouchers will be issued. Service has to be utilized on scheduled appointment date.
Terms & Conditions
Services are non-redeemable for other discounts or refunds in kind and are non-exchangeable.
Order confirmation is valid for 12 months

 

from the date of purchase with no blackout period, no extension of expiry dates will be granted.
Please present your order confirmation sent to your email in person at our check-in counter from the date of purchase to utilize the service.
Kindly call in advance to book for massage and beauty services.