---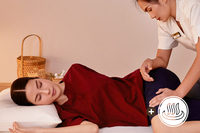 温泉 + タイ古式マッサージ
Onsen + Thai Massage
Regular price $200.88
Tax included.
| | |
| --- | --- |
| Onsen + Thai Massage 90 mins | $186 ($200.88 w/GST) |
| Onsen + Thai Massage 120 mins | $228 ($246.24 w/GST) |
タイ古式マッサージは、何千年もの間、タイ伝統の医療法として、東洋医学と生理学を基礎に発展してきました。その特徴は、全身の経絡に沿ったつぼ押しと、多様なストレッチ技術にあります。体内の滞ったエネルギーの流れを整え、身体の柔軟性を高め、血行を促進し、肩こり・筋肉痛・関節痛を和らげます。


包括温泉
推奨温泉期間:45-60 分
Consisting of techniques developed over thousands of years, traditional Thai massage is a holistic therapy grounded in physiology and traditional Oriental medicine. Our experienced therapists will consult with you to identify your desired pressure levels and any areas of focus. They will then use ancient combinations of body rocking, rhythmic acupressure, and deep assisted stretches to balance your essential energies, relieve stress and tension, alleviate muscular and joint pain, improve flexibility, and stimulate circulation.

*Inclusive of Onsen Entry
Recommended Onsen Duration : 45-60 Mins
How to Redeem
An order confirmation will be sent to your email after payment.
Call 6386 4126 to book an appointment within 12 months from date of purchase.
Alternatively, you may request for an appointment

 

here.
When you arrive on your appointment date, present your order confirmation at our check-in counter to utilize the service immediately.
To enjoy onsen facilities, please arrive at least 1 hour before appointment time.
No vouchers will be issued. Service has to be utilized on scheduled appointment date.
Terms & Conditions
Services are non-redeemable for other discounts or refunds in kind and are non-exchangeable.
Order confirmation is valid for 12 months

 

from the date of purchase with no blackout period, no extension of expiry dates will be granted.
Please present your order confirmation sent to your email in person at our check-in counter from the date of purchase to utilize the service.
Kindly call in advance to book for massage and beauty services.